Night of Sept 28/29th 2014
Returning home with family and friends, my attention is fixated on the skies. UFO's/Alien crafts of different sizes and types, as well as military flown crafts are flying by and no one else in my party seems to notice them. I don't care that they aren't watching the sky, I am enthralled at every sighting. My party knows what I'm doing, that I keep looking to catch a glimpse of the next one, or focus in on something in the sky toward the horizon. Jim seems annoyed as he asks me what I'm looking at.
"All the crafts in the air." The sky was abuzz. Something was happening that we the public weren't aware of. There was an urgency in the air from a collective extraterrestrial knowledge and I wanted to know.
I passed a room as we headed inside and noticed a wobbling circular craft in the corner of a man's garage. His hair was aging, and his skin was tanned and rough. I stopped in excitement and pointed to the small toy-like craft as it wobbled in a zipzag path toward the man.
"Oh its 'so-and-so' [I don't recall the name he referred to him by]."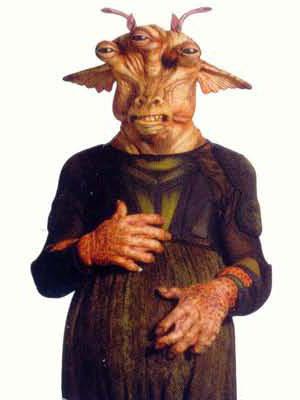 "You know him?!"
"Yes. He's part of the 'so-and-so' [ET organizational name]."
I get a better look. A tiny alien is driving a kid's toy UFO. It's white plastic, with cutout sections where a windshield or window would be. Vibrant colored lights that seemed more for spectacle for a child than of use to the alien operator. He had animated a kid's toy into an operational vehicle somehow. I pondered the science he might be using to perform this, and magnetic field was the only answer I came up with in the dream. Imagine a remote control helicopter. Now imagine a humanoid alien small enough to fit inside it could control it by manipulating its remote capabilities and bringing those controls to its fingertips in the cockpit. He animated only a few levers, making immovable plastic functional.
The creature looked like a creature out of Star Wars. It had multiple eyes that protruded out of the head like a lobster, or the Gran species of the Star Wars
Universe. It's face was oval, and its skin was forest green like Gredo. 
My neighbor's alien friend was coming to warn his human correspondent of what was happening. This man, my neighbor, revealed himself to me as a member of an order that exchanges intelligence between humans and alien councils. My neighbor gave himself a title, like the 7th Sun/Son of the 11 Stars or something more grandeur and cosmological.